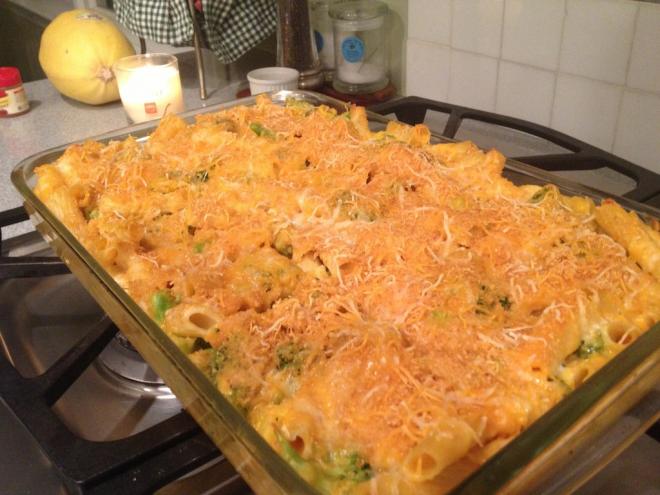 The Best Macaroni & Cheese Ever!
Get ready for a new twist on a family favorite. Who doesn't love Mac & Cheese? It's a perfect dish to serve at your Super Bowl party. But don't be fooled---This is not your ordinary high calorie, high fat splurge. It still has great flavor and the cheesy goodness we all love but it's loaded with some surprising ingredients that gives this dish an impressive nutrient profile. The delicious combination of flavors will impress your guests and leave them asking for your recipe.
Ingredients
1-2 pounds carrots, peeled and thinly sliced
One yellow onion ---finely chopped
3 -6 cloves of garlic minced
2 cups low sodium chicken or vegetable broth
Salt
One pound macaroni-try Barilla Plus or your fave whole grain variety
2 cups Sharp reduced fat cheddar cheese, shredded
Cayenne Pepper
1-2 large heads of broccoli- lightly steamed
Cayenne Pepper
¾ cup crunchy panko or any bread crumbs
In a medium saucepan, combine the carrots & onion with the minced garlic and one cup of broth. Season with salt and bring to a boil. Cover and simmer over moderate heat until the carrots are very soft, about 15 - 20 minutes. Transfer the carrots and any liquid to a blender and puree until very smooth. (May need to add in some extra broth)
Meanwhile, in a large saucepan of boiling salted water, cook the pasta until al dente. Drain the pasta, reserving 1 cup of the cooking water.
Return the pasta to the pot. Add half of the reserved water and the carrot puree and cook over moderate heat, stirring frequently, until the pasta is coated with a thickened sauce, about 5 minutes. Stir in one cup of the cheese and cook, stirring, until very creamy, 2 to 3 minutes longer. Stir in up to 1/2 cup of broth as needed and the steamed broccoli, cayenne pepper to taste and season with salt.
Preheat the oven to 350°. Transfer the pasta mixture to a baking dish and top with the remaining cheese and breadcrumbs. Pour ½ cup of broth evenly over the pasta to maintain moisture. Bake uncovered until the cheese is melted and lightly browned, about 20-30 minutes. Let stand for 5 minutes before serving.