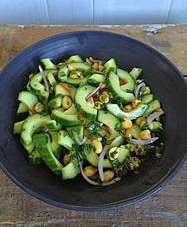 We are a bit out of practice when it comes to summer cookouts. Making it as easy as possible will minimize your stress, and your guests will still think you have created an indulgent spread. Try this quick, delicious and super flavorful salad from Food & Wine Magazine.
Ingredients:
1/4 cup fresh lime juice
1 tablespoon fish sauce
1 tablespoon sugar
2 Thai chiles, thinly sliced
(or substitute 1/2 tsp Sriracha)
1 small garlic clove, finely grated
2 tablespoons canola oil
3 English cucumbers—halved lengthwise, seeded and sliced crosswise 1/4 inch thick
1 cup packed cilantro, chopped
1/2 cup salted roasted peanuts
1/2 small red onion, very thinly sliced
(a small bunch of scallions or chives would be a milder substitute)
Kosher salt
Preparation:
In a small bowl, whisk the lime juice with the fish sauce, sugar, chiles, garlic and oil. In a large bowl, toss the cucumbers, cilantro, peanuts and onion. Add the dressing and toss to coat. Season with salt and serve right away.
To increase the protein and fiber, add one 15oz can of drained & rinsed garbanzo beans