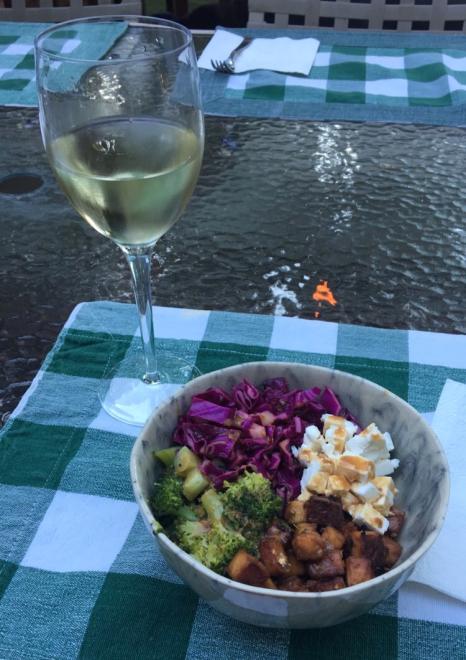 Veggie bowls are all the rage. They are the perfect summer entree, encouraging you to create your own masterpiece. Build your bowl with a healthy grain--quinoa, barley, brown rice--to name a few. Add in any veggies--roasted, pickled, raw, roasted. And the guest of honor here is the crispy tofu. A healthy, affordable protein that is easy to make and bursting with flavor. Enhance your bowl with nuts, seeds, feta, shredded cheese, beans or even a bit of your fave dressing.
Crispy Tofu
16 oz block of extra firm tofu
Cut tofu evenly in to 6 rectangular slices
Put on paper toweling or clean dish towel and cover with more paper toweling or another clean dish towel to remove excess moisture
Cover with heavy cutting board and let sit for 30 minutes
Before putting tofu into the teriyaki marinade (recipe below), cut the slices into one inch cubes. Place in marinade and let chill for 2-8 hours.
Preheat oven to 375 degrees.
Place parchment paper on a cookie sheet and spread tofu chunks on paper.
Take 1 TBS of cornstarch and using a flour sifter or mesh sieve, sprinkle cornstarch evenly over the tofu.
Bake in oven for 40 minutes, tossing every 10 minutes. Tofu is done when it is browned and crispy on the edges.
Serve tofu with brown rice or quinoa and lots of delicious veggies.
Homemade Teriyaki Sauce
Ingredients:
1/2 cup soy sauce
3 tablespoons water
3 tablespoons sweet rice wine
1 tablespoons brown sugar
2 tablespoons honey
1 tsp Sriracha or a hot sauce of your choice
2 garlic clove, minced
2 teaspoons fresh ginger, finely chopped or zested
Preparation:
Mix all the ingredients in a small saucepan and heat. When the sauce comes to a simmer, lower the heat and allow it to reduce for 10 minutes. Transfer to a small bowl and let cool.