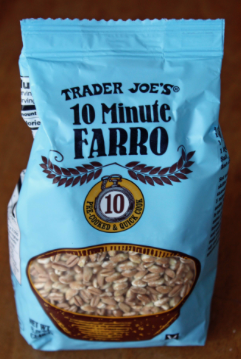 An ancient grain from the Mediterranean, farro lends itself to many hearty main dish salads. Rich in

fiber, protein, iron, magnesium, zinc, B vitamins and antioxidants which make it one of the most heart-healthy grains,

Build this salad with the following ingredients to maximize taste and nutriition. The combination of feta, pistachios and dried apricots creates the right balance of sweet and savory. And the added herbs and arugula round out this plant-based dish. Assemble at the beginning of the week and enjoy it for lunch all week long!
Quick tip--Trader Joe's sells farro in easy to use/prepare bags.
Serves 4 to 6
Ingredients
1 cup farro
2 tsp kosher salt
2 small bay leaves, or one large
6 T extra-virgin olive oil
2 T fresh lemon juice
Sea salt to taste
1/2 cup shelled pistachio nuts (or substitute chopped walnuts or almonds)
1/2 cup crumbled feta cheese
1/2 cup chopped dried apricots
2 cups coarsely chopped herbs: parsley, cilantro, and mint
3 cups baby arugula leaves (or three big handfuls)
Directions
In a medium saucepan, bring farro, salt, bay leaves, and three cups water to a simmer. Continue to simmer uncovered until farro is tender and liquid evaporates, about 30 minutes. If liquid evaporates before the farro is done, add a bit more. If the farro is done but there's liquid remaining, pour off the excess. Let the farro cool, then remove the bay leaves.
In a medium or large salad bowl, whisk together the olive oil, lemon juice, and a pinch of sea salt. Add the farro, pistachios, feta cheese, and apricots, and stir to mix well. Just before serving, fold in the chopped herbs, arugula, and additional salt (if needed).
Nutrient Analysis per serving (based on 6 servings)
Calories: 345; Total fat: 22 g; Sat fat: 4 g; Trans fat: 0 g; Cholesterol: 11 mg; Sodium: 520 mg; Total carbohydrate: 33 g; Dietary fiber: 6 g; Sugar: 10 g; Protein: 22 g
— Recipe courtesy of Carrie Dennett, MPH, RDN, CD.---Today's Dietitian