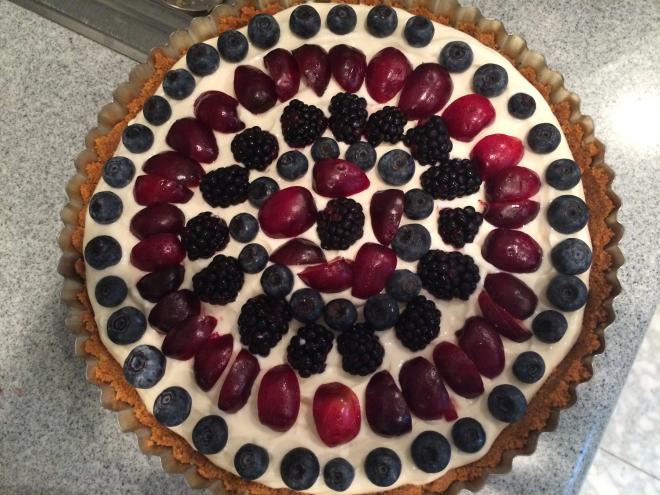 You want your summer dessert to not only taste delicious but to be beautiful as well. This scrumptious tart lets your creative side emerge---and everyone will enjoy adding their unique take on how the fruit should be arranged. In fact, in my home we often make two at a time and have a decorating contest to see who's tart gets the most "likes". But no matter how you arrange the fruit, this tart will be enjoyed by all.
Ingredients:
Crust:
10 whole graham crackers, coarsely broken
¼ light brown sugar
¼ cup (1/2 stick) unsalted butter- melted
Filling:
8 oz cream cheese, room temperature
1/3 cup of sugar
½ cup plain yogurt
2 tsp. fresh lemon juice
1 tsp. vanilla extract
Fresh Berries for topping
May use blueberries, raspberries, strawberries or any other decorative fruit such as sliced peaches, pitted cherries, plums or kiwi.
Preparation:
Make Crust:
Preheat oven to 375 degrees. Grind crackers and sugar in a food processor until coarse crumbs form. Add butter and process until crumbs are evenly moistened. Press crumb mixture firmly onto the bottom and up sides of a 9" diameter tart pan with removable bottom. Bake until crust is firm to touch---about 8 minutes. Cool on rack.
Filling:
Using an electric mixer, beat cream cheese & sugar in medium bowl until smooth. Add in plain yogurt, lemon juice & vanilla. Spread filling on cooled crust using the flat side of a butter knife. Chill until firm ---about four hours.
Arrange berries or fruit over filling. Serve immediately or keep chilled.
Adapted from Bon Apetit –Sour Cream Tart