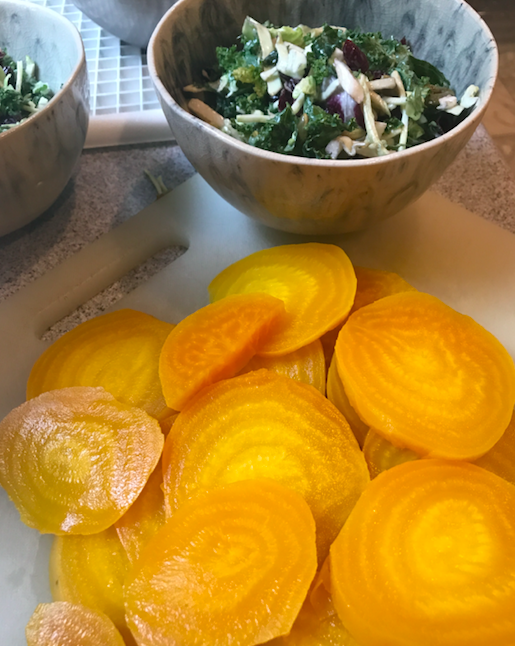 A Farmers Market Treasure!
My Saturday morning escape took me to the local Farmers Market where I picked out my "go to" faves---just picked Tomatoes, my latest obsession- Radishes, and of course a regular staple-Mixed Greens. Drawn to the heaping table of beets, I knew they were coming home with me and that I would plan a meal around these golden morsels. So easy to prepare—see below--I cooked them up and reinvented my shredded slaw salad by giving them the starring role. Pleasing to the eye but more importantly, the sweet beets next to the savory greens was a perfect combo. May just have to go back next week for more!
Golden Beets
Remove beet greens leaving the very top intact. Wash beets gently to remove visible dirt, being careful not to break the skin.
Place beets in a pot and fill with cold water to cover. Heat to boiling, then reduce the heat, cover the pot and simmer until tender.
Small beets should cook in 30 minutes, larger in 45 minutes.
(Don't check for tenderness as you do not want to pierce the skin.)
Drain the beets and let cool. You can trim the top and bottom and the skins should slip off easily.
Cut them into whatever shape/size will work for your dish.