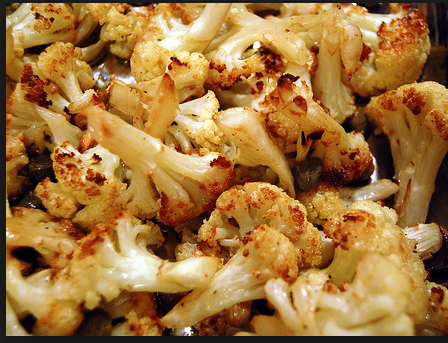 Cauliflower was never a draw for me as it had only been offered to me raw. It's beautiful white color was appealing but not very appetizing even when paired with a dip. Then I discovered the magic of roasting and turning something bland and dry into something complex and delicious. It's so tasty that it often never makes it to the dinner plate in my home but is often eaten as a snack before dinner is even served. At least I know that everyone is getting in their healthy share of veggies!
Ingredients:
One head Cauliflower - remove the jacket of greens, core out the stem and wash in cold water. Cut into small pieces or florets similar to how you would cut up broccoli.
1-2 TBS Extra Virgin Olive Oil
Salt & Pepper
Preparation:
Preheat oven to 375 degrees.
Spread cauliflower pieces on a cookie sheet.
Drizzle lightly with olive oil and toss to coat the cauliflower. Sprinkle with salt and pepper. Roast for 30-40 minutes, turning halfway through until golden. Let cool.