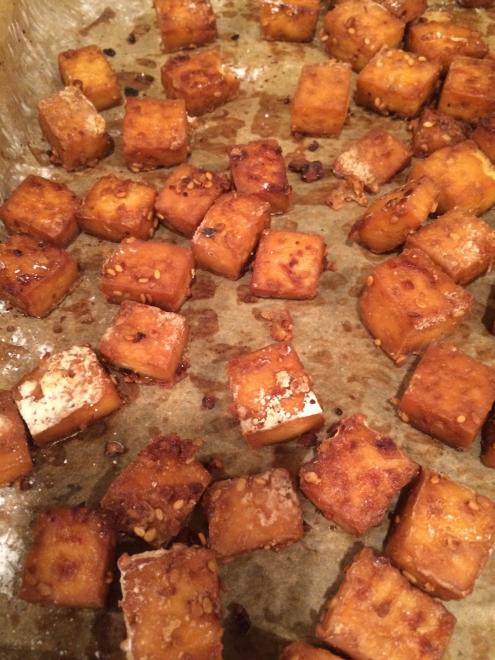 If you are trying to add in more vegetarian entrees, tofu is delicious and couldn't be a faster fast food option. A staple of Asian cuisine for more than 2000 years, tofu is low in calories and an excellent source of protein--containing all eight essential amino acids. But more interestingly, this chameleon food takes on the flavors of whatever it is put next to leading to lots of creative options. Simplicity rules with the following recipes so use them as a launching point for your next meatless meal.
16 oz Block of extra firm tofu
Cut it evenly in to 8 rectangular slices
Put on paper toweling or clean dish cloth and cover with more paper toweling or another clean dish cloth
Cover with heavy cutting board and let sit for 30 minutes
Stir Fry
Put tofu slices in your favorite marinade and chill for 2- 8 hours. Heat up grill pan and places slices in pan. Let cook on medium heat for 6-8 minutes. Turn and cook for additional 3 minutes.
Crispy & Crunchy
Before you put your tofu in to the marinade, cut the slices into one inch chunks. Place in marinade and let chill for 2-8 hours.
Preheat oven to 350 degrees.
Place parchment paper on a cookie sheet and spread tofu chunks on paper.
Take 1 TBS of cornstarch and using a flour sifter or mesh sieve, sprinkle cornstarch evenly over the tofu.
Bake in oven for 45 minutes, tossing every 15 minutes. Tofu is down when it is browned and crispy on the edges.
Serve either Tofu with brown rice or quinoa and lots of delicious veggies. It's also a smart way to add protein to your salad and lots of interesting flavor.