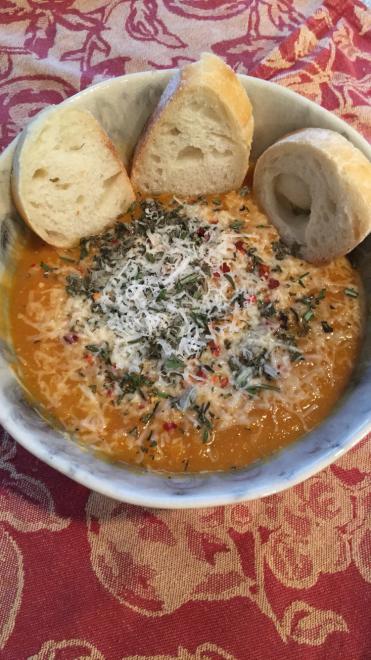 A basic mirepoix combined with fresh herbs and a bit of pancetta starts this delicious soup. Add in tomatoes-canned are fine and some white beans for protein and creaminess. You can puree the mix using a immersion blender or a standard blender. Both work equally well. Adding the faro at the end thickens the soup and fills your kitchen with welcoming aromas.
Ingredients:
1
 medium yellow onion, finely chopped
3 cloves of garlic, minced
4 
large carrots, finely chopped
1 
cup celery, finely chopped
2 
tablespoons olive oil
2-4 ounces (50 grams) pancetta, about 4 thin slices
1 
sprig rosemary
4 to 5
 fresh sage leaves
Salt and pepper
1 can (15oz) diced tomatoes
1 can cannellini beans (rinsed and drained)
About 4 
cups water or vegetable stock
1 
cup (200 grams) of farro (semi-pearled or pearled, not whole grain)
Wedge of parmesan cheese for topping
Preparation:
Heat the olive oil in a wide soup pot or saucepan; add the chopped onion, carrot, and celery and gently cook until soft and translucent. Add the pancetta and continue cooking. Add herbs and diced tomatoes and season with salt and pepper.
Add the white beans. Stir to combine everything and add 2 cups of water. Bring the mixture to a simmer, cook 10 minutes uncovered, then remove from heat. Remove the rosemary stick and blend (an immersion blender is ideal for this) until smooth.
Add the farro to the bean purée (along with another 1-2 cups of water or stock to loosen it, using more or less as necessary) and continue cooking over low heat for about 30 to 40 minutes, stirring every now and then to check that the soup is not sticking to the bottom of the pan, until the farro is cooked al dente. It should be a thick soup but you can add more water or stock to your liking.
Check for seasoning. Serve the soup with freshly ground black pepper and finish with a topping of grated parmesan cheese.
(adapted from recipe by Emiko Davies)