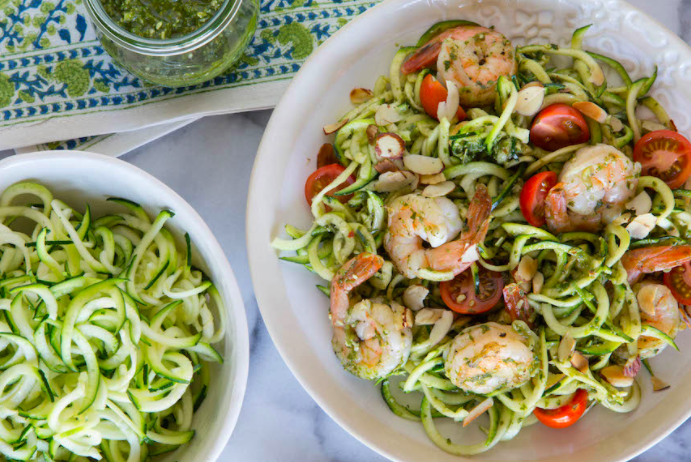 Farmers markets and produce aisles are brimming with zucchini. But what to do with Mother Nature's bounty? This may be the best time of year to skip the pasta and "get spiralized!" You can create ribbons of delicious tendrils of zucchini that are low in calories but packed with nutrition. The noodle forming blades of the spiralizer typically offer a few options to make ribbons of different sizes---Spaghetti, fettuccine or ribbon cut. My favorite is zucchini but try carrots, beets, sweet potatoes or yellow summer squash.
Elyssa's Pick:
Oxo Brand Spiralizer
https://www.oxo.com/products/preparing/fruit-vegetable-tools/tabletop-spiralizer
Spiralized Zucchini & Pesto Shrimp
Ingredients:
½ cup of basil pesto (homemade or store bought)
3 tablespoons olive oil
4 cloves garlic, minced
1 pound raw shrimp (26 – 30 count, peeled and de-veined)
Kosher salt and freshly cracked black pepper
1 cup cherry tomatoes-Halved
4 medium zucchini
Grated Parmesan Cheese
Preparation:
In a skillet, heat 2 TBS olive oil and add the garlic,. Cook until golden. Add shrimp and season with salt and pepper. Saute shrimp for 6 – 8 minutes until fully cooked and pink. Add two tablespoons of the pesto and toss to combine until evenly distributed. Put shrimp in a bowl, cover with foil and set aside.
Using a vegetable spiralizer, cut zucchini into noodles. Heat another tablespoon of oil in pan used to cook the shrimp. Add zucchini noodles and sauté for a few minutes until just tender. Season the zucchini noodles with salt and pepper and then toss with 2-4 TBS of the pesto. Add in tomatoes and cook for additional two minutes. Turn heat off.
Combine seasoned shrimp with the zucchini noodles and cherry tomatoes. Taste and adjust seasoning as needed. Top with grated parm and serve warm.