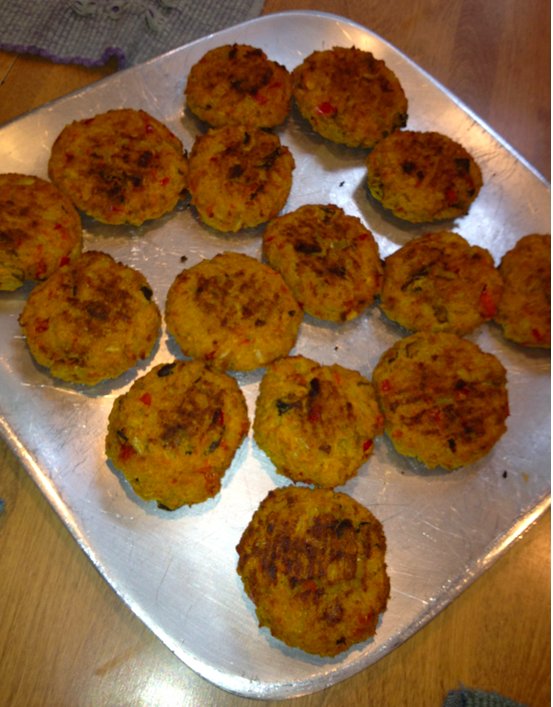 Need a great idea for a yummy meal that you can make ahead and just warm up when you get home? These savory "cakes" or veggie burgers cook up quickly and can easily be frozen and reheated as needed. My recommendation is that you make small ones as described below so that the outside becomes crunchy but the inside remains soft and tender. So flavorful with the cumin and jalapeno and don't forget the lime dipping sauce which adds brightness to the final dish.
Ingredients:
2 Tbs Olive Oil
4 Scallions, thinly sliced—May use a small red onion
6 Garlic Cloves, pressed
1 Jalapeno Chile, finely chopped—remove ribs & seeds for less heat
1Tbs ground Cumin---May experiment with a different spice such as garam masala
2 cans (15.5oz ea) black beans, drained & rinsed
Coarse salt & fresh pepper
1 large Sweet Potato, peeled & coarsely grated—2 cups
1 large Egg, lightly beaten
3/4cup plain dried breadcrumbs
Lime Dipping Sauce
½ cup of plain greek yogurt
Juice of ½ of a lime
Preparation:
1). In a small skillet over medium heat, warm 1 Tbs of oil. Cook the scallions until softened. Add the garlic, jalapeno & cumin. Cook until fragrant, about 1 minute. Transfer to a large bowl.
2). Add the beans to the bowl; mash with a fork or a potato masher, leaving about ¼ of the beans whole. Season with Salt & Pepper. Fold in the sweet potato, egg & bread crumbs. Divide in to 16 ball of equal size, flatten into patties.
3). Heat the broiler. Brush a baking sheet generously with oil. Place the patties on the sheet, ½ inch apart. Broil 4 inches from the heat until golden brown, 8-10 minutes. With a spatula carefully turn the cakes. Broil until crisp, 2-3 minutes more. Serve with lime sour cream.
Portion Size: 4 Cakes
Calories: 370 calories
Protein: 12.8 grams
Fat: 14 grams
Carbohydrates: 48 grams
Fiber: 10.3 grams