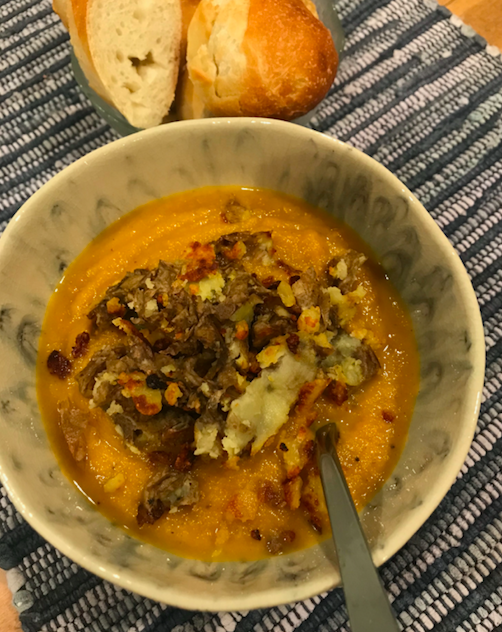 I am not a skilled mashed potato maker so when I picked up a ricer before Thanksgiving, I thought this would be my year to shine. Of course, I didn't realize that the thin skins on the Yukon golds are best peeled first to let the ricer create the fluffiest mash. Sharing the labor with my daughter, we came up with a pretty delicious batch of mashed potatoes and a big bowl of potato skins. Dare I throw anything away, I put them in a container and tucked them away in the overstocked fridge. A few days later, I found them and an idea was hatched. What if I crisped them up and put them on top of a yummy soup? And so I dug a bit deeper in the fridge and found some leftover parsnips and carrots. And a soup was born with a decadent topping. Carrots and parsnips create a velvety soup that stands alone so no matter what topping you choose, this soup is sure to become a winter fave.
Parsnip Carrot Soup
Ingredients:
2 TBS Olive oil
1 large onion, peeled and roughly chopped
3 cloves garlic , peeled and roughly chopped
1 thumb-sized piece fresh ginger , peeled and roughly chopped
1 generous teaspoon garam masala
4 parsnips, peeled and chopped into same-sized chunks
4 carrots, peeled and chooped into same-sized chunks
1 quart organic chicken or vegetable stock
salt
freshly ground black pepper
Garnish options: Cilantro, plain yogurt, green onions, (potato skins*)
Serve with warm crusty bread
Preparation:
Saute onion, garlic and ginger until softened and translucent
Add in garam masala and let cook 2 minutes more until fragrant.
Mix in parsnips and carrots along with 3 cups of stock. Bring to a boil and let simmer for 30 minutes.
Remove from heat. Use an immersion blender or cool and transfer to a blender to puree until smooth.
Return to heat and add in more stock to create the consistency of your liking. Season with salt & pepper.
Serve in bowls with crusty bread and any of the garnish options.
*Melt a tablesoon of butter in a skillet. Add in potato skins and saute until crispy. Sprinkle over soup.