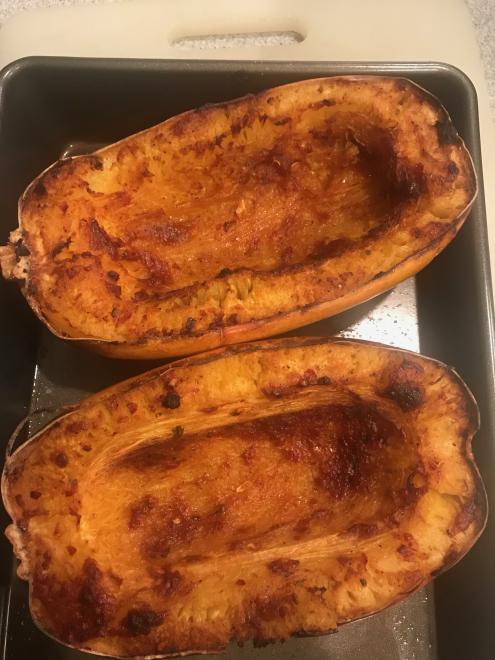 Move over ketchup and sriracha and try some harissa! A spicy North African condiment made of a blend of hot chile peppers (which are often smoked), garlic, olive oil and spices. It comes in a thick paste in a tube or as it is gaining popularity, many companies are packaging it in glass jars. My favorite brand is made by Cava and can be found where you buy hummus at Whole Foods. A little goes a long way and it must be blended with other ingredients like the marinade featured here for the spaghetti squash Another favorite combo is 1 Tsp Harissa blended into 1/4 cup of ricotta cheese. Spread on a cracker or cucumber slices for an amazing Super Bowl starter----or your new favorite midday snack!
Ingredients:
1 (3-pound) spaghetti squash
2 TBS Harissa Paste plus more for additional seasoning
2 TBS Honey
2 TBS Olive Oil
1 TBS Rice Wine Vinegar
One Medium Yellow Onion
1 15oz can of Chick Peas
1 cup of Pistachio Nuts
Preparation:
If you can't cut squash in half, then prick it with a knife or fork and put the whole squash in the microwave for 3-4 minutes.
Preheat oven to 400°.
Cut squash in half lengthwise, discarding seeds. Place squash halves, cut sides up in a 13 x 9-inch baking dish. Generously season with salt. Mix up Harissa/Honey/Olive oil mixture and rub all over rim and inside of spaghetti squash. Bake at 400° for 45-50 minutes or until squash is tender when pierced with a fork.
Remove squash from dish, and cool. Scrape inside of squash with a fork to remove spaghetti-like strands.
Meanwhile, saute onion until golden in a large pan. Use tongs to combine cooked spaghetti squash and chick peas and onions. Add in Rice Wine Vinegar. Cook on low heat until all the flavors blend together. Season with salt. Taste and add in more harissa if needed. Sprinkle with pistachio nuts before serving.
Serves 4
Serve warm alongside a grilled chicken breast or with grilled shrimp