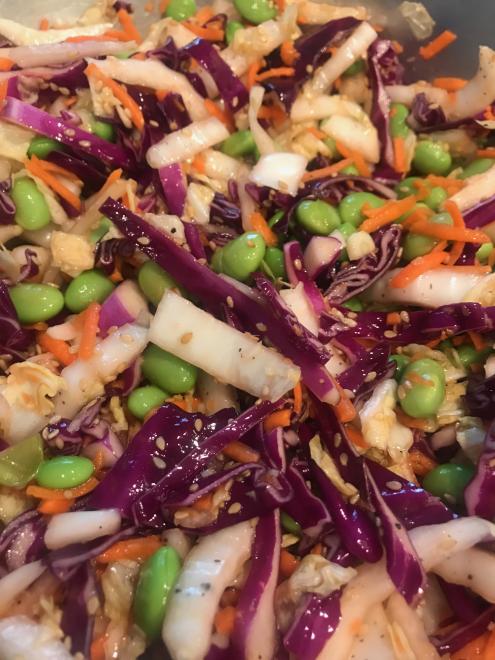 Cabbage is the unsung hero in my home this spring. We can't get enough of it especially when it's in a slaw. Cabbage is part of the cruciferous vegetable group. A classification of vegetables which are known for their anti-cancer, anti-inflammatory, pro-health benefits. In fact, cabbage seems to be on everyones list of veggies that we should eat more of but only acknowledge around St Patty's Day. Although cabbage is the main player in this dish, ginger is the real star. The lime juice brightens and the ginger sparkles as you crunch away and wonder "why has it taken me so long to embrace this veggie?"
Ingredients:
Ginger Lime Dressing
Slaw
4

cups

shredded cabbage

(napa, green or purple,)

1

large carrot

, shredded

i pkg shelled edamame, cooked and cooked
Preparation:
Combine lime juice, ginger, garlic and honey in a blender. Slowly add in olive and sesame oil. Put aside.
Combine salad ingredients in a large bowl.
Mix in 1/2 the dressing and toss using tongs to disperse dressing. Let sit for 10 minutes before serving for flavors to meld and cabbage to soften.
Can be prepared in advance and kept for up to three days in the fridge.