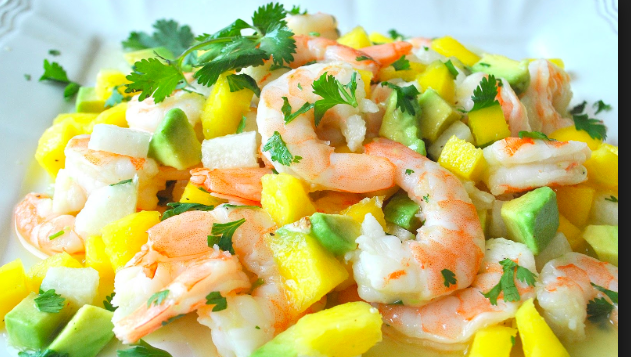 Summertime begs for refreshing flavors ---sweet, tangy and cooling! And when I don't want to turn the oven on, I turn to some favorite ingredients. This combination of crunchy jicama, tropical fruit and plump shrimp is sure to satisfy. It was originally conceived to be part of a fish taco bar but it really is a stand alone salad---no taco needed for me!
SHRIMP, MANGO, AND JICAMA SALAD WITH PINEAPPLE VINAIGRETTE
Ingredients:
3 tablespoons fresh lime juice
2 tablespoons frozen pineapple juice concentrate, thawed
1/4 cup extra-virgin olive oil
1 pound cooked large shrimp, peeled, deveined, halved lengthwise

2 large mangoes, peeled, pitted, cut into 1/2-inch cubes (about 3 cups)
2 cups of 1/2-inch cubes peeled jicama
2 avocados---peeled and cubed
1/2 cup chopped red onion
3 tablespoons chopped fresh cilantro
6-8 large Boston lettuce leaves—for garnish

Preparation:
Whisk lime juice and pineapple juice concentrate in small bowl. Gradually whisk in oil. Season vinaigrette to taste with salt and pepper.

Mix mangoes and next 4 ingredients into shrimp. Pour vinaigrette over; toss to coat. Place 1 lettuce leaf on each of 6 plates. Spoon salad over lettuce, dividing equally. Serve chilled.