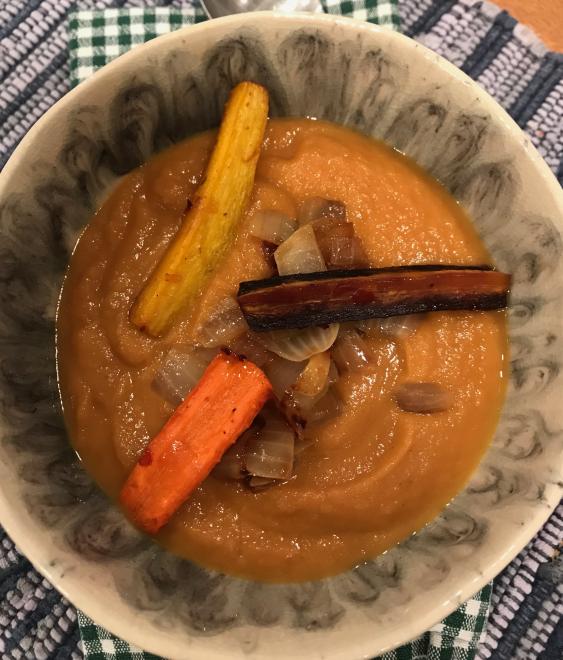 Autumn is the perfect time of year to ease in to soup making. Made in batches, you are sure to have leftovers that can be frozen and enjoyed on a frosty night when you don't want to cook. Somewhat new to our markets are multicolored carrots which do have different flavors and textures. A medley of purple, yellow, white, and orange blended together in a soup creates a delicious, warming meal. The secret inredient here is harissa which adds complexity and a fiery heat. Start with a tablespoon and add more as your palate dictates.
Ingredients:
2 medium yellow onions, coarsely chopped
6 cloves of garlic, minced
4 TBS olive oil
2lbs multi-colored carrots, chopped into 3" pieces
2 large parsnips, chopped into 3" pieces
1 TBS of Harissa paste
4 cups organic vegetable broth
Preparation:
Saute onion and garlic in one TBS of olive oil pan until golden.
Mix carrots & parsnips with olive oil and harissa paste until evenly coated. Spread evenly on roasting pan. Roast for 45 minutes, tossing every 15 minutes. Carrots & parsnips should be tender and golden but not burnt.
Reserve some carrot pieces and onions for a garnish. Working in batches, place one cup of vegetable broth, the onion garlic mixture and carrots & parsnips into a heavy-duty blender until smooth. Continue until all ingredients have been blended together. Return to pan and warm. Adjust seasoning with salt and pepper. Garnish with reserved veggies right before serving. Perfect with a crusty, whole grain bread.