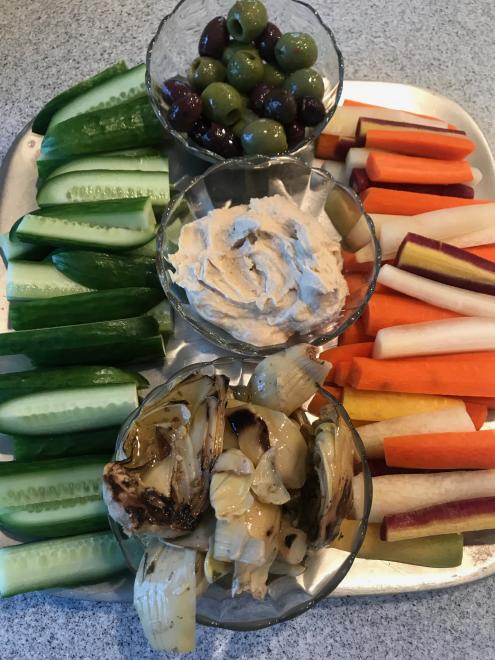 Always on the search for a new addition to my crudité plate, I rediscovered the taste of artichokes. I've always considered fresh artichokes a seasonal restaurant indulgence. I have never learned how to prepare a fresh artichoke at home but it has been on my culinary "to do" list. Until I get there, I have been enjoying the marinated variety. They are easily spotted on market antipasti displays or in jars hiding out with the olives. My Tip: Skip the canned 'chokes as they are often mealy and flavorless.
As the ever-inquisitive nutritionist, I needed to defend this new obsession by researching the nutritional attributes of this treat. I was not disappointed. Artichokes are listed as the 7th highest among fruits & vegetables in antioxidant content. Notably they are high in phytonutrients; silymarin and cynarin. Both are powerful promoters of liver health. And as an added bonus, artichokes are high in fiber and potassium. The marinated varieties tend to be high in sodium as they are often marinated in oil & vinegar.
In my non-scientific poll, I found that many clients keep a jar of artichokes as a pantry staple. Most popular uses include a mix-in for omelets, a topping on fish or in the creation of the classic artichoke dip. As for me, today I scattered them on my avocado toast. Yummmmmm! Or simply eat them along with fresh veggies & dip.